Welcome to the Ultimate Blueprint for Link Building Techniques. In this article, you will understand backlinks, why they are important to your site and the best way to build them into your site that is search engine friendly. These techniques will not only raise your ranking on every search engine but they will show you how to avoid being penalized.
1a. Backlinks Defined and Why They Are Essential in Link Building
1b. Search Engine Ranking and Link Building
1c. Content Matters: Quality Content Attracts Quality Backlinks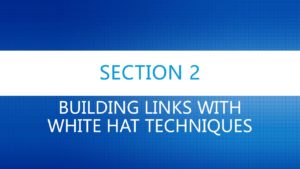 2a. Link Building Methods: The Good and the Bad
2b. How Guest Posting Enhances Link Building
2c. Using Infographics to Build Better Links
2d. Build More Backlinks with Email Outreach
2e. Advanced Pointers for Optimal Link Building
3a. Identifying Page Strength
3b. Domain Authority: Determine Your Search Engine Ranking
3c. Relevant Keywords Are Essential
4. 7 Incredible Tools to Determine Your Backlink Success
You may have heard about backlinks, you may already know a little about them. After all, they are one of the most important aspects of search engine optimization for your site. Because backlinks are so influential in your search engine ranking, it is imperative that you know how to utilize them.
Most people don't have a full understanding of what backlinks are and how they work. With knowledge comes power and the ability to use backlinks to not only increase your search engine ranking but also your internet brand as a whole. As many are unclear of how backlinks work, they are also unsure of how to build backlinks. It can seem overwhelming, that's what this blueprint is for. This article will bring you clarity and a confidence in finding, using and naturally building quality backlinks going forward.
Grasping backlinks and using them effectively is essential to pretty much every professional these days. The good news is, it's not as hard as you think. We know how useful this knowledge is and it is our goal to make the internet better. That's why we put this together for you. We are going to arm you with an arsenal of knowledge. You'll know the difference between the right and wrong way to acquire backlinks. You'll come to understand that quality is better than quantity. You will know what Google likes and doesn't like. We are going to turn you into a backlink expert.
Let's get started. We'll begin by explaining backlinks clearly and how you can start building them correctly.
1.a: Backlinks Defined and Why They Are Essential in Link Building 
Creating Backlinks
Let's show an example. Jane has a fitness blog. She puts out quality content and catches the attention of Fitness Ultra Magazine, a popular, reputable and very high ranking online magazine. They do a review of one of her workout routines and provide a link to her site through the review. Jane is now a happy camper because she just received the holiest of holy backlinks; organic, relevant and content driven.
Accruing backlinks like the one in the example is the ultimate goal. And don't forget, this puts you at a higher ranking for every keyword, even the most used and searched keywords that everybody fights over like a bone. Backlinks are one of the biggest things Google and other search engines use to determine ranking.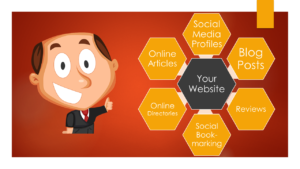 The following is a glossary of terms related to backlinks:
Link Juice: Link juice is the value of any backlink pointing to your site. The higher the value of the site linking to you, the more juice it will have with search engines.
No-Follow Link: A no-follow link is a link that has been tagged to stop search engines from following it so that whatever site is being linked to doesn't get any of the referring site's link juice. This is usually done when linking to a site whose quality isn't known or site that has no relevant content.
No-follow attribute: No-follow attributes are what the HTML code is called when tagging a link as no-follow. Most blog comment areas and forums will include no follow links to avoid a number of users that post links and in effect would use up too much of their link juice.
Do-Follow Link: A do-follow link is exactly as it sounds. It is a link that is set up for search engines to freely follow it and allow link juice to pass through from the referrer to the linked site.
Linking Root Domains: Linking Root Domains is the amount of backlinks a single domain as linking into your site. Search engines will count these as only one domain.
Low-Quality Links: Low-quality links are not what you want. Mostly they come from spam sites, link farms, fishing sites and all kinds of shady web entities. Google does not like these sites and will see them as red flags. This is why buying links can be risky.
Internal Links: Internal links are links between pages on the same website. It is also called interlinking.
Anchor Text: Anchor text is the text used in a hyperlink. This text is incredibly important as it is weighted by search engines for keywords. They should almost always be used here when possible.
Backlink Analysis: Backlink Analysis is done by software or an app that tells gives a site information on all their backlinks and will rate each backlink according to common criteria; popularity, relevance, link value, etc. This is a powerful tool for analyzing backlinks and how you can use them for search engine optimization.
Broken Links: Broken links are links that don't lead anywhere, usually because the site or the page has moved. Sometimes this can happen when there is a typo in the link and if a site goes down temporarily. These should be avoided as they will not be seen kindly by search engines.
Domain Popularity: Domain popularity is determined by how many quality domains have backlinks link into a site. As mentioned in the linking root domain definition, each domain is only counted once no matter how many links point to a site, so the more separate quality domains the better.
Authority Sites: Authority sites are quality websites that have an outstanding reputation and are seen as an authority in their content by the web audience and search engines (you will come to see how those two work together). These sites usually gain their reputation with content that is so engaging that people continually go back to their site, share their content and spread the word in other ways.
Now that we have laid out a comprehensive look at backlinks, let's show you how they can benefit you and your business and/or site.
This Is Why Your Site Needs Backlinks:
Branding: Backlinks are the bread and butter of your online branding. They are one of the top ways your audience finds you and your brand. Backlinks tell just enough of your story, if done correctly they tell a compelling story and that leads people to eagerly go to your site to find out more.
Authority: The more quality backlinks you have, the more you are seen as an authority in your industry or niche. Your backlinks should come from as many other authority sites as possible to keep you in an authority position. Search engines, your audience and those who are just finding you will have a sense of assuredness about your brand.
Relationship Building: One of the best ways to build a string of backlinks from authority websites is to build relationships with as many other businesses online as possible that can help your brand and build your audience. When you build relationships with owners and admin at respected sites, you are more likely to get a backlink through a guest post or a review and that builds your reputation along with your audience.
Improves Search Engine Ranking: The more natural and legitimate your backlinks are, the more your search engine ranking will naturally improve. Search engines will see your site as high quality and will index your content on a higher scale.
Faster Search Engine Indexing: The sooner you can get a backlink from a high-quality site, the sooner your site will be indexed by the top search engines. The more reputable a site, the more backlinks they have, the higher they're ranked on search engines, the more they get indexed. It's a cycle you definitely want to become a part of as soon as possible.
Referral Traffic: Referral traffic is another huge benefit of backlinks. The more search engines see your traffic increase through backlinks off of high-quality sites, the higher your rank. You just get a higher ranking from all angles with high-quality backlinks.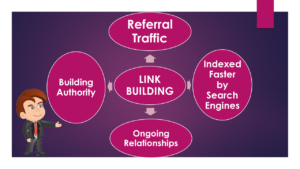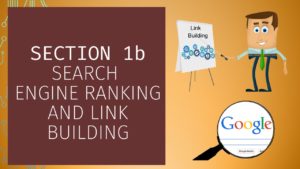 1.b: Search Engine Ranking and Link Building
As we've discussed before, link building should not be seen as an optional practice for any business who wants to have a high search engine ranking. Want to be on that coveted first page? You have to have quality backlinks from authority sites.
Understanding the best practices for link building will help your website rank on search engines like Google. In fact, Google's Andrey Lippatsev revealed that inbound links and content are the top two search ranking factors for organic searches on Google. This is why many website owners spend thousands of dollars on web agencies that promise great backlinks.
Link building is something that you will have to factor in as part of doing business from now on to really succeed online. It's labor intensive and there are many different variables, all on different difficulty levels but it is worth it. It is a constant stream that you have to keep flowing to you. Search engines favor the sites with the most quality activity, which mostly includes posting high-value content and gaining those high-value backlinks.
For a little more clarity, let's look at the structure of a link so you can see how search engines index them:
The Anchor tag: The anchor tag is where the link starts. This is what lets a search engine know that there is a link to index and whether it can be followed or not.
Link referral: Have you ever wondered what that "href" in the link code stood for? It's a shortened version of "hyperlink referral." It puts the "hyperlink" in every link. It's what makes the link clickable. This can be used with anything that starts with HTTP, this includes websites, images and downloadable files.
Visible text: This is the text you usually see that has the hyperlink applied to it. It is often phrases like, "click here" or "click for more." Most hyperlinked text will be underlined and have a different color to the rest of the text to indicate that it is clickable.
Closure tag: This closes the anchor tag and lets the search engines know that the link ends there.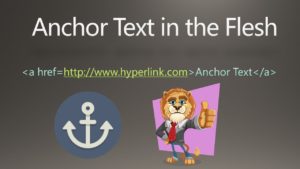 How Link Building and Search Engine Ranking Are Connected
This connection, between link building and search engines is an important relationship to understand. The more you understand it, the better you will get at creating links that will help your search engine ranking. Search engines utilize links in two ways:
To find new web pages
To establish a search engine ranking for the page
Each new page on your site has to be indexed by search engines. That's when they determine the value and relevancy to your keywords in search rankings. The content of each page is extracted and added to their index. The quality of backlinks is taken into consideration. Google has a video if you are interested in learning their indexing process in detail. Think of it like a first impression. You want your page to look its best.
Google and other big search engines have always recognized the value of links, however their assessment of value was forced to change over the years. It used to be fairly easy to figure out Google's algorithm using their own PageRank system. At first the page quality and number of links were the determining factors of search engine ranking. Back then, any link was considered a good thing because it was seen as approval. People would only link to sites they liked, right?
As with anything, people quickly learned how to use the system to their advantage and to their higher search engine ranking. People would put up anything, no matter how bad the content and then buy or exchange links. Link farms were born and pretty soon the first few pages of search engine results were crammed with the worst sites because they had manipulated the system.
That's when Google started making changes to force quality sites to go higher in rankings. However, each updated came with its own vulnerability and Google had to start getting more and more distinctive with what created a valuable link and what didn't. That's when white hat and black hat SEO was born. We'll go into both of those in Section 2.a.
Google is now at a point where their algorithm is so specialized and so fine-tuned that not even the most seasoned SEO geniuses can figure it out. However, as you can see in this article, there are universal factors that can never be ignored by search engines. Things may be more challenging and time consuming than they used to be but we all benefit from it. From better search results to better content being offered. These link building strategies actually serve to make your site better in all ways.
Things to Keep in Mind When Link Building
Lq: Link Quality: As we have discussed, the quality of a link is based on the quality of the site. The older, more trusted, more visited and (just as important) most relevant sites to yours are the ones that will be the most powerful. If you are still building authority and link juice, it really won't serve you to post content on a blog just starting out with very little link juice of their own.
Lt: Link Text / Anchor Text: Anchor text is important when being used to link to your site as that will be part of the keywords that search engine use to index your site through the backlink. The more backlinks that use your preferred keywords in the anchor text, the higher you will rank for that search. Do not hesitate to ask if a blog or site will use a specific keyword that is relevant to you. In most cases, content you publish will give you control over that but when you don't access to the content, it never hurts to ask.
Ln: Number Of Links: Obviously, the number of quality backlinks is important as the more you have, the better it is for your ranking. However, don't get caught in the trap thinking that you have to put all your focus on only a few large sites. Once you have a backlink from a high-value site, move on to another one. Search engines only count links by domain. So any site that links to you more than once is only counted once. It's actually the higher number of quality sites linking to you that matters, not the number of links themselves. If a huge blog had a hundred backlinks to you, it wouldn't matter. It's only that first link that counts.
The last thing to remember is that content is king. Google has even said that focusing on good, quality content is where the real importance lies. The caveat to that is that it must be consistent and often. Static sites are not going to keep a top spot in the search engines these days. The more quality content you have, the more you will attract an audience and the more you will accrue high quality backlinks.
1.c: Content Matters: Quality Content Attracts Quality Backlinks
Content is everything. Content is the center of everything on your site. It tells the story of your brand. You use it to influence the way people perceive your business. It builds brand awareness. It is your bread and butter and that is why it is the most effective tool you have for link building.
When your content is engaging and interactive, it will draw more people to your site and that will draw a higher momentum of traffic that leads to more backlinks.
Google will notice when there is a high engagement with your site, especially if quality backlinks are being created.
Another part of high engagement because people are drawn to your quality content is that your content will be shared more through social media, email and word of mouth. And, say it with me, this all leads to what? More quality backlinks.
Now, here's the thing. All of this comes about not just with the compelling and interactive content you have created but also from maximizing your content. We'll show you how.
Consistently Create New Content
So you have created great content. That is wonderful. You should be happy and give yourself credit. Now, get back to work and create more. Consistent and regular posting of quality content is vital for search engines to see that you are still active. It is rare these days for a static site or a site that isn't updated often to stay very high up in the search engine rankings. Ever since social media entered the scene it's all about fresh and new content. Speaking of, another way to maximize all of this content is to include share buttons on everything. Encourage people to share your content everywhere it's relevant.
Invest in Yourself
Facebook, twitter, Instagram, Pinterest and pretty much every social media platform has a way to advertise your content so that it looks like a natural part of the site but still stands out. Facebook, Twitter and Instagram are the top sites that would give you more bang for your buck by sending viral traffic your way but you should also consider your industry or niche. Some smaller social media sites might be populated completely by people who would be into what you're selling (crafts on Pinterest, music on Myspace as two examples). Do some research and find out which one would be able to target your audience most effectively.
One last thing here, look to see if any local blogs or websites have anywhere you can fit with your advertising. If you sell a tangible product or a service, look into operating a table at a trade show and pass out business cards with your website on them.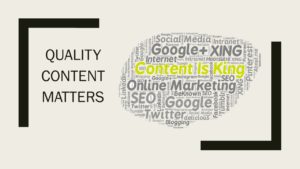 Spread Your Content
Post your content on other platforms, blogs and websites. This is called outbound content and it can be a powerful tool in your link building toolbox. Usually outbound content is something like infographics, guest posting, apps, music, etc. Anything you can create, you can post anywhere on the internet you are able. Just make sure to stay relevant. We will go into more detail about some of these later in the article.
Outbound content is basically like brand ambassadors for your brand, so you want to put your best foot forward and make an impression fast. So if you're looking to build links using outbound content, focus on creating content that is quick and easily digestible this would encourage memorability and higher chances of shares.
Outbound content is how you show your business and your brand to the world. Make it as engaging, shiny, new and entertaining as possible. The more memorable it is, the higher your chances of going viral and increasing your traffic, increasing your backlinks and getting to that first page on all the search engines.
Ask
Ross Hudgen recommends tapping into the power of relationships to spread the word about your content. Ask your people around you for links. The key is to make sure you're offering great content. So despite the strong relationship you might share with a person, do not burn bridges by offering then crappy content with hopes of getting a link. If you do get one, that would be the last especially if their site is a serious website.
SEO guru, Ross Hudgen recommends using the relationships you already have in your life to help share your content. Ask if they would be willing to help you spread the word. Remember to make sure they are relevant to your industry or niche and that you are offering high quality content. Just make sure you don't bombard them. Asking once or twice is enough, after that move on to see who else might be willing to help.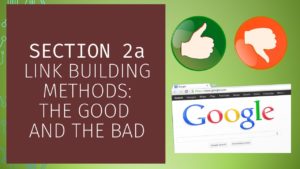 2.a: Link Building Methods: The Good and the Bad
At this point, you most likely have a good understanding backlinks and how essential they are to increasing the value of your site and business. Now you are probably ready to start building them but you don't know how.
We're going to take you through that but first we want to make sure you know what practices to avoid. Many people become impatient when they first start out and look for shortcuts. We would advise against that.
You want to prepare yourself for the fact that this could take a little time and require a little patience from you. Let's take that patience and look at practicing what is called "white hat SEO." White hat SEO is when you play by the rules and create natural and engaging content that draws people to your site organically. When you don't play by the rules and try to cut corners thinking it will speed things up while letting your content suffer, this is called "black hat SEO." Google and the rest of the big search engines do not like this at all. Avoid it at all costs.
Gone are the days when link building was as easy as submitting your hyperlinks to article directories and blog comment sections. With Google constantly changing its ranking algorithm, link building basically has one rule; do it right or butt out! So if you're looking to increase your web rankings and generate leads, you need to focus on a consistent and compliant link building strategy.
It used to be that you could just submit your site to a bunch of article directories and post your link everywhere you could whether it had anything to do with your business at all. Those days are long gone. Google has changed its algorithm so much that it is fine-tuned and very detailed in what it will accept as a quality backlink.
We know it seems like a lot of work to keep up with continuous content, email outreach, building relationships and pitching guest posts but anything worth doing has a slow start. Think of this as a way to keep a fire under your feet to produce good content.
As you employ white hat strategies and keep your creativity going with the content, you learn new ways to stay in the game and you also see results. Yes, this stuff really works. You realize that it's not worth getting banned for fast and fleeting results. The slower build has staying power and now so do you.
Link building is not something that should be done carelessly because you might just end up losing everything you've worked for in an instance. The major focus while building links for your website is focusing on creating links that lead your audiences or customers to relevant and great content. Happy and satisfied audiences often equal great link building and approval from Google.
Link building needs research and strategy to avoid being banned by Google. Once you're off Google, you might as well not even have a website. That's why focusing on what is Google friendly is in your best interest as a brand or a business. And keep in mind, this isn't a bad thing. Focusing on quality content for your visitors is making your business better and your audience happier.
Google friendly link building can be done and one of the best ways is to know what not to do. Below is a list of shady link building practices that can negatively affect your search engine ranking:
Paying for links or posts that contain your link, exchanging goods or services for links or sending a free product in exchange for a review with a backlink
Overdoing link exchanges, particularly if your content isn't related
Obvious article marketing or guest posting campaigns on a large-scale. These become obvious by the keyword packed writing and anchor text while the content is low quality.
Using any automated program or service. Those are considered spam, no question.
Google's Webmaster Guidelines
Nobody is perfect. Not all SEO gurus follow the rules straight down the line without veering off here and there. Of course that happens but it is always good to know the rules and know them well. The more you try to comply with the them, the more organic and high-value your backlinks will be. As long as you put your main focus into quality content, sticking with relevant backlinks and what your audience wants, then you will be seen by Google as a reputable site with great potential.
The following list lays out what search engines like…and what they definitely do not like: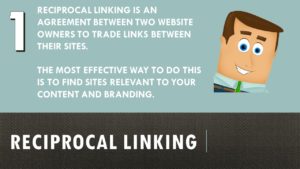 Reciprocal Linking
Reciprocal linking is an agreement between two website owners to trade links between their sites.
Good
You can engage in reciprocal linking as long as it's strategic and not excessive. As always the key should be on creating hyperlinks that give the users more relevant information on a specific topic.
Bad
Overdoing link exchanges will not make you look good to Google and could possibly get you banned. They do not want to see irrelevant link exchanges. It looks shady to them and they are going to assume you bought those links.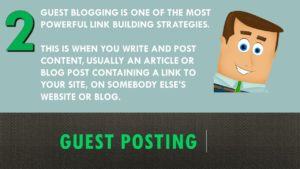 Guest Posting
Guest blogging is one of the most powerful link building strategies. This is when you write and post content, usually an article or blog post containing a link to your site, on somebody else's website or blog.
Good
Submitting a guest post that is relevant, has quality content and focuses on the audience will always win. Even if you don't put a link in the post or the site owner doesn't allow it, they will look for you if your content is engaging and that means your name or your business or brand will be searched and that is acknowledged by the search engines. When you do include a link, make sure to use a good anchor text that conveys the subject and a keyword if it fits naturally. Just don't pack it with keywords that don't match the content.
Bad
There are site owners who exchange guest posts with the sole purpose of exchanging backlinks. Not a single thought is given to the content and it is very low quality and poor. They usually do this at high volume, too. Google sees this as spam and will act accordingly.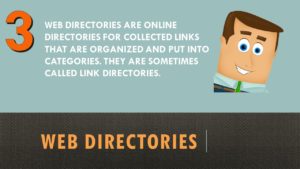 Web Directory Links
Web directories are online  directories for collected links that are organized and put into categories. They are sometimes called link directories.
Good
Web directories don't have to be a bad thing. There are still plenty of successful web directories that can offer value in their backlinks. Make sure they are relevant to your industry or niche and go through their site to double check that they aren't a link farm that just posts any link.
Bad
It is a waste of your time to add your link to any directory site that isn't relevant to your niche. It's also a waste of your time to do anything with a directory that Google sees no value in. Look for the good directories, there is nothing to be gained with the bad ones.
Forum and Blog posts Comments
An effective link building strategy is to post relevant, interesting and informative comments on blog and forum posts.
Good
Only do this if you actually have something to say or add to a conversation. It's fine to work your link in if it fits naturally in with what's being said. Just make sure to link to your website naturally within the comment offering more information but don't spam the comment section.
Bad
Posting your link in forums and comment sections that have nothing to do with your industry or niche is just as bad in Google's eyes as exchanging links with a site not relevant to yours. It's not worth the time.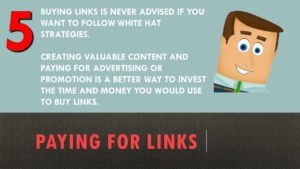 Paying for Links
Buying links is never advised if you want to follow white hat strategies.
Good
Creating valuable content and paying for advertising or promotion is a better way to invest the time and money you would use to buy links.
Bad
Google sees buying links as a breach of their rules and they will not hesitate to ban you. Besides, the links being sold aren't quality links and won't do much for your search engine rankings. It is never worth the risk.
2.b: How Guest Posting Enhances Link Building
Guest posting is one of the best and most popular ways to build the most valuable backlinks you can find if you play it smart that is. Don't waste your time with sites that won't add any value to a backlink. You are going for quality. You want that link juice.
Consider these benefits from putting in the work towards accruing good, quality backlinks:
Authority sites and blogs linking to you
Builds your reputation, your audience and your expertise
Referrals are targeted to you and they want to see your content
Increased traffic
Increased branding exposure
You have to be very careful about who you approach and do your research on whether a site will actually help you or not. This is incredibly important. If you choose the wrong site or sites, that could be disastrous for your link building and search engine ranking.
To get the best bang for your guest post, make sure to look for these things:
Relevant industry or niche
Make sure the content is high-quality and expert level
Don't just throw in URLs for your links, name them with anchor text
Check your grammar and spelling, everything about the post has to be quality
Make it compelling and have value to your audience
Don't be like everybody else, come up with a unique slant on something in your industry
Don't stuff it with links, only link when it is relevant and organic to the content
Make sure the site is reputable and high value
Best Guest Posting Tips:
Do Your Research (again)
Have some sites in mind before you write your post. This will help you tailor it to the sites that you plan on approaching. Research the best possible sites in your niche that give you the best value and authority backlinks. High traffic and high search engine ranking are both very good signs. Start your search with these keywords to find sites that are already open to guest posts and then narrow the list down to the ones most relevant to you.
"guest post"
"write for us"
"guest article"
"guest post opportunities"
"this is a guest post by"
"contributing writer"
"want to write for"
"submit blog post"
"contribute to our site"
"guest column"
"submit content"
"submit your content"
"submit post"
"This post was written by"
"guest post courtesy of "
"guest posting guidelines"
"suggest a post"
"submit an article"
"contributor guidelines"
"contributing writer"
"submit news"
"become a guest blogger"
"guest blogger"
"guest posts wanted"
"looking for guest posts"
"guest posts wanted"
"guest poster wanted"
"accepting guest posts"
"writers wanted"
"articles wanted"
"become an author"
"become guest writer"
"become a contributor"
"submit guest post"
"submit an article"
"submit article"
"guest author"
"send a tip"
"guest blogger"
"guest post"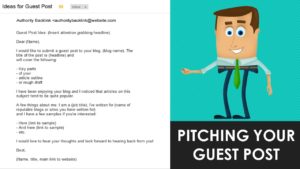 Choose the Topic Carefully
Your post is a representation of you and your site. You want it to be as compelling and unique as possible. Put your best foot forward and be as creative, relevant and topical as you can while maintaining a feel for the audience. Make sure you read through the site to get the general feeling and tone so that you can match it as much as possible while still staying unique to you and your brand.
Make Your Pitch
Make sure you have done your homework about the site before approaching a site owner. As you might already know, many site owners get bombarded with bad requests, spammers and other people trying to abuse the backlink system. You have to stand out. You have to show that they will find value in taking a chance on you. Pitch them three of your best ideas that go well with their site and include your best writing samples in the pitch. Follow up once or twice over several weeks. Let them know you want it but don't spam them. They get enough of that.
Publish!
If you've landed one or two guest posting gig, the next step is to actually publish the posts you've written. Be sure to avoid spamming your audience or guest post location with links! One or two contextual links would do especially if you're dealing with a website for the first time.
Once you land the gig, now you have to publish. Don't stuff the post with links and be sure to engage with your audience in the comment section. This is where you will find more traffic and possible backlinks. Have engaging discussions, show you are an expert and an authority. But also, be gracious and show that you're grateful for the opportunity every chance you get.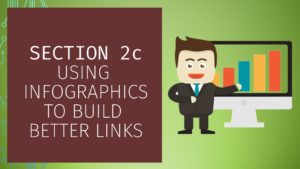 2.c: Using Infographics to Build Better Links
Infographics, on the literal surface, don't seem like they could be all that helpful. After all, it's an image and search engines can't tell if an image is quality or not. There aren't keywords that go with an infographic. How could an infographic possibly help your link building? This is where your audience and the future audience comes in.
Building Compelling Infographics for Link Building
Research
Look around and see if other people in your field or niche have any infographics on their sites. Don't worry if they don't. That's just a starting point. Sit down with some paper and start brainstorming. Try to think about the type of data that is associated with your business. Write it down and start searching for everything you can find about that particular aspect of your business.
Create Content
Once you have your data and a sort of rough categorization of it, now it's time to start making something out of it. Figure out where your strengths are when it comes to creating visual content and go from there. What is the best way to work with your visual abilities and also make compelling content?
Make a Physical Rough Draft
Once you have an idea of the direction you want to take, put pen to paper and make a rough sketch of it. It helps to work through on paper so that you can continue the brainstorming. It's a lot easier to scratch out a drawing and start over then to delete a file and get discouraged. It's also easier to have the colors and basic formatting figured out. This will help prepare you for when you're ready to work with it digitally.
Design
If you have any visual strengths on the computer, now is the time to start making your digital creation. However, if that isn't something that you could do even a little bit, you might want to consider hiring a graphic designer. There are all kinds of places to find them for all kinds of budgets. Make sure you are very clear in communicating exactly what you want.
Revise
Don't give up if it doesn't turn out how you want it to at first. Many of the best infographics that have been shared millions of times went through a number of drafts. Take your time. Go ever everything with meticulous detail and you'll eventually figure out the direction that takes your infographic to completion.
Launch it on Your Site
Figure out how you want to display it on your site. Have a launch plan. You are going to need to be ready to share it across all the social media platforms you have access to. Make up embeddable links that others can embed in their site or on their blog. Once you have the embeddable link, make it very easy to find. Make sure that every relevant social media share button is around it too. These are going to be what helps it go viral.
The content usually doesn't sell itself. No matter how good it is, you have to put in the work and spread the word. And not just social media, either. Manually send out copies of the infographic through email to every blog and site owner you think might be interested. The bigger and more popular the site, the better. The more word of mouths spreads, the more you go viral and the more quality backlinks you acquire.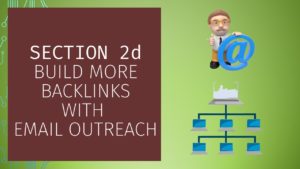 2.d: Build More Backlinks With Email Outreach
Email outreach is a potentially valuable process where you email a website owner to discuss how you two can help each other with content and links. It is a very good way to build relationships with other bloggers and site owners in your industry or niche.
This is another really powerful aspect of link building that many people shy away from. They might feel unworthy, they might fear being rejected. Whatever it is, don't make this mistake. Insecurity is blocking a lot of people of from a link building goldmine. Not every site owner will be receptive but it is worth sifting through those to find the quality backlinks from the ones who will.
Some actually shy away from email outreach simply from feeling overwhelmed. It's a lot of work but it is very worth it. It might be an investment in time and effort but if you get back a handful of backlinks from every hundred or so emails sent out, then you are getting paid back tenfold. Anybody who has tried this and hasn't gotten any responses is most likely making these mistakes:
Sending emails to irrelevant sites to your industry or niche
Sending emails to direct competitors
Not concentrating on the value of the link being pursued
Your website doesn't have quality content
Your email copy is boring or sloppy
Avoid these common mistakes by reading and following these pointers:
Research, Research, Research
Research sites that are like yours. Research sites that have relevant content. Research sites that have complimentary content. Research, research, research. And then research some more. You can never do too much research. The more you know about which sites are authority sites and which sites are middling sites and which sites aren't worth your time, the better and more efficient your email outreach will be.
Don't forget about the commands that help you find relevant sites and sources we discussed in the guest posting section.
Call Them by Name
Make it personal. Make a list of names to go along with the email addresses so you can address them personally. The last thing a busy professional wants to read is an email that has a generic greeting meant for a large number of people. Make them feel like you are speaking to them directly. Put in the research to find it out if it isn't readily apparent. If need be, hire an online researcher to help.
Notice What You Like
Notice the emails that catch your attention? What is it about them? What are they doing? Sit down and figure out what it is that got you and try to replicate it in a way that works naturally and relevantly to your brand. Try out a few to see if different ones garner different responses. People want to look at nice visuals. Media all over is becoming a more dynamic and visual presence. Our eyes are trained to want visually appealing media. This includes emails.
You Must Be Valuable Too
Your email and site content must have value. Don't overuse the word "I." Tell them what you can do for them. Make them want to respond. Make it compelling and valuable to them. Offer them information they can use in their business or profession. Tell them why exchanging links with you will be beneficial to them. Show them that you are worth their time.
Follow Up
Follow up but don't spam! People are often very busy and it's very likely that many of them might not read your first mail. You should follow up on outreach efforts to make sure that a source is totally off the table.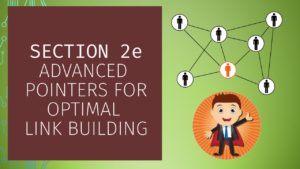 2.e: Advanced Pointers for Optimal Link Building
Here are some advanced tips to expand on guest posting, email outreach, using infographics, etc. Utilize these and boost your site up in the rankings even more: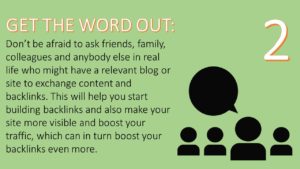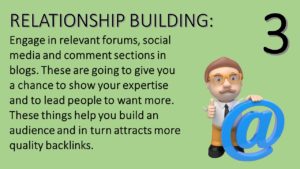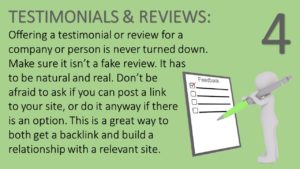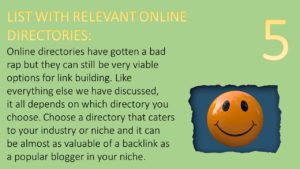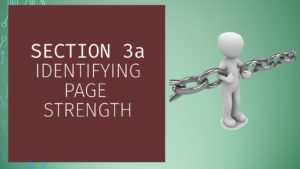 3.a: Identifying Page Strength
Determining the strength of the page you want to build links to is another factor to consider. You want that page to be as strong as possible so that you get maximum gains from every backlink. Using an SEO app that specifically measures page strength can help you come a long way.
Page Authority
Page Authority is an SEO app developed by the SEO superstars, Moz. The app scores each page on a 100-point scale to tell you how well the particular page you're inquiring about will rank. Moz figures its predictions by using number of links, MozRank, MozTrust with a bot that learns the changes in search engine algorithms to give you the best search engine ranking prediction.
It's important to note that the lower you are, the easier it is to advance. As you get higher, the competition's competency gets stronger and because of this, Moz has said that it is easier to go from something like a 30 to a 40 than it is to go from an 80 to a 90.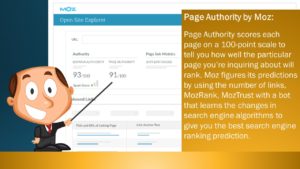 Several things have an influence on page strength. These are just a few:
Backlinks
Google ranking for the first four words of the title tag
Age of site
Amount of links from .edu and .gov domains
Age of URL
Links from Wikipedia, del.icio.us, DMOZ.org
Measure your page strength with these tools:
Free MozBar for measuring page authority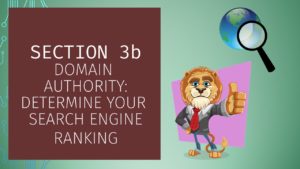 3.b: Domain Authority: Determine Your Search Engine Ranking
Domain Authority is another app from Moz. It scores a website's search engine rankings based on a 100-point scale. The great thing about this tool is that it focuses on the entire site instead of a specific page the way Page Authority does.
If you want to do a comparison of your site and another site, like say a competitor's site, then Domain Authority makes it easy. They give you a comparative analytic report of the two sites that will help you figure out where you might need to make changes to move further up in the search engine rankings.
The way the app works is by calculating a combination of link metrics, which includes: amount of links, linking root domains, MozRank, MozTrust. Once the report is finished, they compile all of that into a single score.
Domain Authority works by using a bot to monitor and learn Google's constantly changing algorithm. They keep up with any changes and they use that to understand how search engine compile rankings in every subtle way. There are over 40 indicators used and because of all the little changes and constant fluctuation of the search engine's algorithms, Domain Authority's score will often fluctuate as well.
Domain Authority vs. Page Authority
As mentioned before, the biggest difference between these two is actually described in their names. Page Authority focuses on a single, specific page and Domain authority measures the entire website.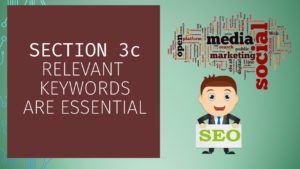 3.c: Relevant Keywords Are Essential
There is nothing that raises the red flags more for a search engine than to have irrelevant keywords. Search engines will consider you irrelevant if they catch wind of you trying to bring in an audience from keywords that have nothing to do with your site. Every keyword you use, every SEO step you take, you have to make sure there is relevancy. It is essential.
The next thing to keep in mind is that search engines love naturally occurring keywords. Keywords in the wild, if you will. Creating valuable and relevant content while including relevant keywords as naturally but also as often as possible is a search engine must. It is something that you have to constantly remember to stay active with, the more consistent you are, the better. Think relevancy with consistency.
Don't forget to research! Continually researching your keywords is vital to stay on top of which ones are going to work for you the most. Keep a list that is easy and convenient to access. Make sure that you are staying natural and very relevant to your site's content.
Consistency and relevancy can be achieved by keeping an eye on these three things:
Landing Page
The landing page of your site, the page your domain points to, must be 100% relevant to your industry or niche. Anything that seems off on the landing page will muddy the waters for the rest of your site as far as search engines are concerned. Make sure every link and every image are tagged relevantly. Also, pay attention to the Meta tags above the body of the page. Anything that would stand out as irrelevant will come back to haunt you.
Content
You may have seen content mentioned a few times in this article. There is a reason for that. Content is what drives your brand, it's what makes people want to keep reading and look through your site. Your content is representing your brand. Relevant and high-quality content will reflect well on your brand to not only your audience but also to search engines. Make your content engaging, make it useful and interesting and most of all, make it relevant.
Links
A long time ago, there was a sort of Wild West going on with link sharing. Sites were going crazy with exchanging links no matter what the subject or industry was. Google soon realized that this practice was making search engines become cluttered and it became very difficult to give relevant search results. They quickly worked to change that and change it they did. All the other top search engines followed suit. This is why search results are as good as they are now. Sites can no longer mess with irrelevant links if they want a high ranking in the search engines. Links must be relevant and high quality, the more you follow that, the higher you go in your ranking.
Keep on top of these things and you'll keep those search engines happy. They'll see you as a relevant site and keep you in the ranks.
4: 7 Incredible Tools to Determine Your Backlink Success
This section is all about the tools. Link building can start to feel like a lot of work, these tools will lighten the load and help you improve your backlink strategies.
Online marketers love this tool. Ahrefs helps you track your site's keywords and backlinks while also giving you insight into the competition.
Open Site Explorer will check your links and give you a profile of your highest quality backlinks. The tool not only helps you analyze your backlinks, shows you the bad links that are raising red flags but it also helps you find more and better ways to build your links!
This tool is used by more than 500,000 users! It helps you easily analyze your link profile using the SEO PowerSuite and SEO SpyGlass tool.  This tool will help you get a list of backlinks to your site or your competitor's site, discover link quality factors and carry out anti-penalty audits and backlink reports.
Don't worry about checking your backlinks manually. Use this tool to automate the process.
97 unique metrics, that's right, Link Research Tools uses over 90 unique metrics to analyze every inbound link to your site. This will help you figure out the best way to configure your link building plan.
You may have heard of Majestic SEO and wondered what it was. Most of those in the know of SEO are very familiar with Majestic and for good reason. It's an easy tool to use as it only requires you to enter your domain name and it does the rest. Simple.
This is a great (and free!) tool that compiles all of your good links while also showing all of your competitor's good links.
You can connect this with your Google analytics account and get emails every time there is a change with your backlinks. We can't tell you how valuable this is. There is also an option to receive alerts about your competitors. Seeing how the competition is doing and what they are doing is one of the most valuable insights you can use to increase your own value.